We're here to answer your auto body repair questions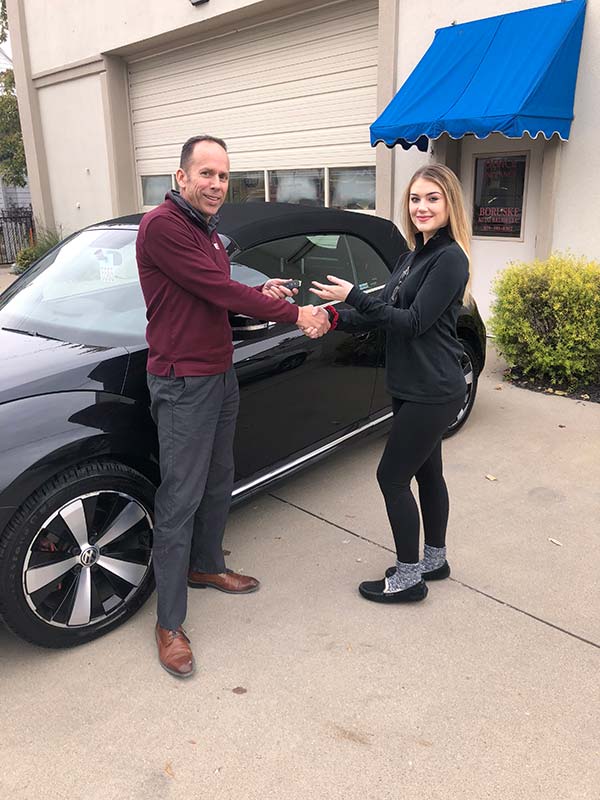 What to do right after an accident
Had an accident? Having an accident is stressful.
Here are some helpful tips on what to do:
Stay put and stay calm.

 

One of the worst things you can do is leave the scene.
Engage your vehicle's hazard lights.

 

Move to a safe place, out of the flow of traffic.
Call law enforcement.

 

Proper legal documentation is helpful for even small accidents.
Discuss the accident ONLY with the police and your insurance company.

 

Never admit fault.

 

Record personal information about everyone involved-drivers, passengers, witnesses and even law enforcement officers.

 

Be prepared for this!

 

It is easy to forget things in stressful situations.

 

Take pictures of any damage to all vehicles involved (and license plates).

 

If your vehicle is drivable, bring it to Boruske Brothers Collision Center as soon as possible.

 

Driving a damaged vehicle is dangerous and often causes more damage.

 

If your vehicle is not drivable, have it towed into our shop, or call us and we'll arrange towing for you.

 

Call your insurance company to report the accident.

 

Have the information from the scene handy.

 

Tell them Boruske Brothers Collision Center is completing your repairs and give them our phone number.

 

Your insurance company will provide you with a claim number (we will need that information).

 
Where do I get a claim number?
The insurance company will provide you with a claim number once you report the accident to them.
Simply provide us with the claim number and we can take care of the rest.
How do I deal with photo shop claims?
Some insurance companies will ask you to download their "claims app" on your smart phone. This will allow you to take photos of the damage on your vehicle and it will go directly to the insurance company. This allows them to assess the damage from their computer. If you are uncomfortable with this process, simply visit Boruske Brothers Collision and we'll do the process for you.
Can I select the shop I want to complete my repairs?
The choice is completely yours. Insurance companies have "preferred" shops, but you have the right to bring your vehicle to the shop of your choice.
What is a car insurance deductible?
It is the amount of money you have to pay toward repairs (that were agreed upon by you and your insurance company) before your insurance covers the rest.  For example, if you're in an accident that causes $3,000 worth of damage to your car and your deductible is $500, you should only have to pay $500 toward the repair.
You pay your deductible directly to the shop completing the repair.  It is kind of like paying your co-pay when you go to the doctor.  If you are not certain what your deductible is, your insurance company can tell you OR we can contact your insurance company for you.
How long will the repairs take?
It depends on the amount of damage and parts availability. We will give you an approximate time of completion when your vehicle is dropped off with us. We will also keep you updated at the time basis preferred by you.
Can I get a ride home while my vehicle is being repaired?
Yes, you may.
We have convenient rental companies nearby, and we also offer to drive you and/or your vehicle home and pick you up when repairs are complete.
Your convenience and satisfaction is our number one priority.
Where is my VIN?
our VIN, Vehicle Identification Number is the number assigned by the manufacturer to uniquely identify your specific vehicle.
Each digit in your vehicles VIN has a specific meaning, including the exact make, model, and year that vehicle was manufactured, as well as other special features that are often relevant to estimating repairs.
There are several different places you can find your VIN, but the easiest is the Vehicle Certification Label that is located on the driver's side doorjamb.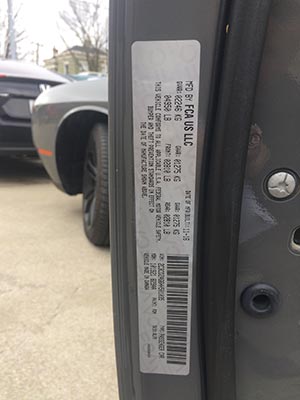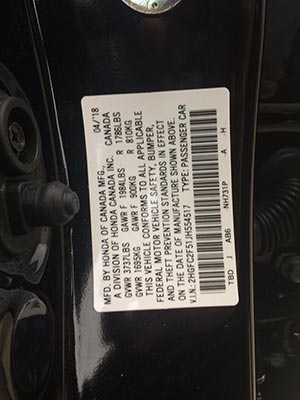 How to Protect Your Vehicles Finish
Protect Your Vehicles' Finish – Tips:
Always remove contaminants as soon as possible with soap and water.
Gas, oil, bird droppings, tree sap, rain spots, salt, and tar can all destroy a vehicle's finish.
Buy gentle cleaners made just for auto finishes.
Never use dish soap and laundry soap to wash your vehicle.
Wet the vehicle before applying soap.
Use soft cloths. Avoid rotating brushes.
Wax twice a year. Never right after refinishing.
Never apply protectants to a dirty vehicle.
Are there any guarantees offered on the repairs?
Yes, we offer a lifetime warranty on all our repairs.
We want you to have peace of mind about all our auto body work.
Can you match my car's paint color?
Most factory finishes come with an identification code.
Using our state of the art computerized paint mixing system, we can easily determine your car's exact color, and match it without imperfection.
Our master certified paint team can mix or custom mix your paint color to get your vehicle looking new again.
If my vehicle's frame is damaged, is the car a total loss?
Not necessarily.
A car is totaled only once the total cost of repairing it exceeds a certain percentage of your vehicle's estimated value.
Using our state of the art frame and unibody pulling system and computerized measuring systems, we can return your vehicle's frame to factory specifications.
If a section of the unibody frame has been bent beyond repair, we can simply replace it.
Insurance Plans
We accept all collision repair and paint refinishing work regardless of which insurance carrier will be paying the bill. We cooperate with every automotive insurance carrier and in the states of Kentucky and Ohio YOU have the right to select which shop will repair your vehicle.
If the repair is not covered by insurance, we will also work directly with you to repair the vehicle to its pre-accident condition while providing the best advice to complete a quality repair that is both on time and on budget.
Boruske Brothers Collision Center is a Direct Repair shop for MetLife Insurance, State Auto Insurance, and Cincinnati Insurance/LYNX.
Know Your Rights
We understand that being involved in a vehicle accident is already unpleasant and stressful. Let us help you through the process. We guide our customers through this process daily. Below we have listed three essential rights you have regarding your car insurance and auto repair in the states of Kentucky and Ohio.
You have the right to choose your own repair shop.
If you are in an accident or collision in Ohio or Kentucky, state law dictates that you have the right to take your vehicle to the repair shop of your choice.  Insurance companies typically have a list of "preferred" repair shops, but you are NOT obligated to use one of these shops.
You have the right to have your vehicle repaired to its pre-accident condition.
Your insurance company is under obligation to provide you with the sufficient funding to repair your vehicle back to its pre-accident condition.
Original Equipment Manufacturer (OEM) parts vs. aftermarket parts.
Your insurance policy may be written to require aftermarket parts. We do our best to price match with OEM parts to get the best quality repair for your vehicle.
Send us a text message